CANDOLIM BEACH
Candolim Beach: Situated at a walking distance from Shalom Dream Home
Candolim beach is perfectly sandwiched between the four ever popular beaches of North Goa, being Sinquerim beach, Candolim beach, Calangute beach and Baga beach. Candolim as can be seen is right in the middle of the beach action in North Goa. By itself the beach of Candolim is one long stretch of seven kilometers of sun kissed sands. This long stretch of golden sandy beach begins right from the foot of Aguada Hill, starting from Sinquerim beach, entering into Candolim beach then continuing nonstop into world famous Calangute beach and ending at the Baga beach which is besides the Baga Hill & Baga River.
Live in Candolim; Walk on Calangute beach
Candolim beach is the most centralized beach in North Goa having on its left side the 5 Star Hotels beach of Sinquerim and on the left hand side the Package Tourists Hotels Beach of Calangute. One can challenge or compete a friend to find where Candolim beach ends and when Calangute beach begins while walking on the Golden sands of Goa.
Candolim Beach: Loved and Favored by International Foreign Tourists
Candolim beach is of a higher standard as it mostly attracts foreigners to laze and sun tan on the shores of Candolim. The beach of Candolim attracts high profile and quality tourists due to its close proximity to the 5 Star Resort of Taj Aguada Village & Resort. On the contrary Calangute beach attracts mega huge crowds of Indian tourists coming from every nook and corner of India. Candolim beach is quite and calm when compared to its immediate neighboring beaches. Lots of easy accommodation to be found and one of them is Shalom Dream home which is in the heart of Candolim village and at a walking distance to the beach of Candolim.
Come to Candolim, It's the Heart of Goa beaches.
The Candolim Beach is located just a few minutes' walking distance from the Goan Holiday Home called Shalom Dream Home. While walking towards the beach, you will come across a vibrant commercial strip of Bars, Restaurants, Shopping centers, Supermarkets, Jewelry stores, Café's, Coffee Shops, Fruit & Vegetable stores and lots of Handicrafts and Souvenir shops and stalls.
Get yourself tattooed on this Goa beach.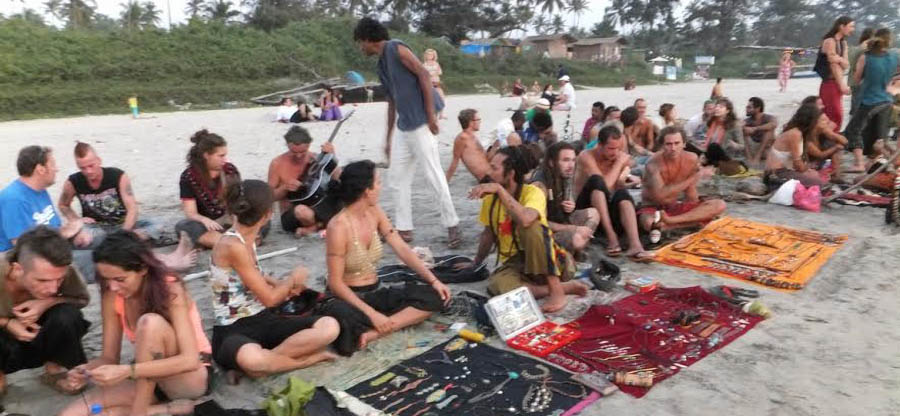 Do some Beach Shopping from your Beach Bed in Goa

Drink & Munch on your own Sunbed in Goa

Soar with Wings to fly with some Paragliding beach activity

Go Bananas! On a Banana boat ride in Goa beach.

Swim in the safest waters of Goa at Candolim beach.

Get a full body Sun Tan at Candolim beach.
Eat in a Beach Shack restaurant only on Goa Beaches in India.
Catch up on your Beach Book Reading at Candolim beach.
Help the Fishermen to bring in their daily catch of fish in Goa.
Watch wonderful Sunsets at Candolim beach in Goa.
Go beach walking or trekking at Candolim beach.
Join a Dolphin Sighting trip at Candolim beach.
Play Basketball on Candolim Beach.
Join in a Goan Beach Football match on Candolim beach.