AROUND NORTH GOA
Most of the amazing and amusing places of tourist's interest are mostly concentrated in the northern part of the state of Goa. The tiny state of Goa can be divided in North Goa, South Goa and East Goa too. Half of the popular beaches are located in North Goa. Almost all of the Discotheques and Nightlife Pubs and Clubs exist primarily in North Goa. South Goa is famous for having maximum of the 5 Star Hotels and Resorts and some of the quietest beaches
in Goa. Almost all of the Spice plantations are placed in the interior hinterland of Eastern Goa, which is situated more towards the Sahyadri Mountain range or Konkan hills of Goa.
OLD GOA CHURCHES: Dozens of Ancient Churches & Cathedrals to discover.
This ancient place, which is totally out of this world, needs a complete and dedicated one full day to be spent in visiting the dozens of churches all spread around in few square kms of area in the village of Old Goa. Not to be missed is the Basilica of Bom Jesus and Se Cathedral holding
the embalmed remains of Saint Francis Xavier in a Glass Casket.
PANJIM CHURCH: Most Photographed and most Photogenic Church of Goa.
This is the, "Our Lady of the Immaculate Conception Church" in the Capital city of Panjim. This is one of the most photographed churches in Goa by tourists. Also this is a popular locale for many Bollywood Hindi movie shootings. Standing high on the hills, this church commands an awe inspiring eagle's eye view of Panjim city in the near distance. Indeed the Panjim Church sits as a Crown on the entrance to Panjim city.
ANJUNA FLEA MARKET: Flea Market started by the Hippies & Flower Children.
A trip to Goa is incomplete, without a visit to this huge Mini India market held every Wednesday just above the beach of Anjuna. The Flea market is a Sunrise to Sunset market and it is regularly organized as the Flea market of Goa. Watch thousands of merchants displaying their wares and products that are exhibited mainly to attract a sale. This weekly market starts at the beginning of October and gets over by the end of the month of May.
MAPUSA FRIDAY MARKET: Goa's Farmer's Market
This is a weekly market that is organized in and around the Government Municipal Market of Mapusa city. Maximum of the stalls are temporary and the Vendors display their produce or products directly on the street. Begins early in the morning and winds up by sunset. Most of the produce sold over here is directly from the farmers and hawkers coming from Bardez and Tiswadi talukas. The Mapusa market is well known for its pottery also called as Terracotta, local spices and fruits & vegetable stalls. Other products seen here are Goan straw hats, Goan home-made chouriço (Pork Sausages) etc.
ARPORA SATURDAY NITE MARKET: Not to be missed night market of Goa.
Originally this market started out as Ingo's Saturday Nite Market, Now it is just popularly known as Saturday Night Market. This is a totally tourist market and it caters to the shopping and eating needs of Indian and International tourists. The location of this tourist market is situated at a hill, so expect tiers upon tiers of shopping stalls. From rings n things to almost anything that is an Indian Souvenir can be found to be on sale here. Bargaining is a must and one has to be skillful in getting the best price. This night market is a visual blast for the eyes. Located just next to Arpora
Temple on the way to Anjuna beach.
ARPORA GO-KARTING IN GOA: Goa Go – Karting – Track ii in North Goa
Goa provides one of the best services in go-karting for the tourists holidaying at the state, with Go Karting services both in South Goa at Nuvem and in North Goa besides Arpora Temple, Arpora. The go-karting race tracks in Nuvem, situated towards north of Margao (South Goa) is very popular and is considered to be one of the best in the whole country. The long track of 482m is enough to thrill you. Besides this it has got a giant display board to display all the racing statistics to the racer as well as to the spectators. Come
to Goa everyone to experience the delight of go-karting. More information at http://www.knkkarts.com
TAMBDI SURLA TEMPLE: The only ancient Stone Temple of Goa
This Hindu temple is dedicated and devoted to Lord Shiva. The temple is located near a small village called Tambdi Surla in extreme North Goa situated 13 kilometers (8.1 mi) east of Bolcornem village, in the north east region of the Bhagwan Mahaveer Sanctuary and Mollem National Park. This temple is also known by the local name of Mahadev Temple and is approximately 65 kilometers (40 mi) f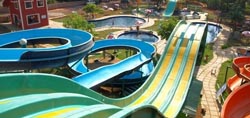 rom the capital city of Panjim. During the Monsoon season, there exists a seasonal waterfall and its rivulet flows closely besides the temple.
SPLASHDOWN WATER PARK: Goa's only decent waterpark for water slides.
Splashdown is North Goa's safest and coolest Water Park. The Water Park has 5 separate pools, a assortment of slides, flumes and other fascinating water rides & slides. There are water rides for all ages, the mild and strong of heart too. Find again the child in you as you plunge down the slides. Splashdown's a great place to spend quality time with your family and friends when in North Goa. A exceptional way to party an occasion, be it a birthday celebration, family get together or a anniversary or just for fun. An amazing place to have a school daytrip, a college picnic or corporate conferences. If you like to splash in water, then Splashdown is for you.
H
OUSES OF GOA MUSUEMS: A Boat shaped House that has history of all houses
If you always found museums to be boring places, then this is one museum not to be missed at all. The shape and structure of the main Museum itself breaks all rules of Monotony and presents itself in the shape of a Boat. Yes a Boat. And this Unique museum of houses is located in the midst of a densely populated residential area called Porvorim. Address: House No. 674, Near Nisha's Play School,Torda ,Salvador do Mundo, Penha de França, Goa 403101
ARAMBOL SWEET WATER LAKE: Besides the Arambol Salty Sea
Visit this miracle of nature that beats most of our common explanations that come to a non-Geologically educated mind. Discover the beauty and spiritual vibe of this fresh-water lagoon. Its natural hot springs will warm your feet when you enter the water. The Sweet Water Lake is a fresh-water body that starts as a natural hot spring deep in the hinterlands of Goan interiors. This water source is encircled by a carpet of green and coconut groves. The lake is locally called Vagkolam, in Konkani language, but Goans commonly call it as Sweet Water Lake. Interestingly this sweet water lake is divided or separated only by the Sands of Arambol beach and on the other side one can see the Salty waters of the Arabian Sea.
CLUB CUBANA: Goa's Nightclub in the sky
Location wise, this is the best located club in the full of Goa. One has to constantly climb from one lower level to the next higher level to see the different parts of this, "Out of the World" Nightclub of Goa. It's eccentric. It's exotic. It's eclectic. This is one Night Club that is truly electric. Stylish neon–lit nightclub with a sound proof dance floor with DJs, plus a spacious outdoor area with a swimming pool on the hill. Address: Arpora Hill, North Goa, Goa, 403507.
MORJIM BEACH: Bird & Turtle lover's beach
This beach is also known as the Olive Ridley Turtle beach in North Goa. The Morjim beach is well-known as a nesting place for the Olive Ridley Turtle. This is an in danger of extinction species of turtles and is provided the highest degree of protection by the Indian law. The efforts of the local environmentalists and local villagers have made these same fishermen fiercely protective of the eggs. The Olive Riddley turtles attract wild life enthusiasts and animal lovers from different parts of the world. At the left end of Morjim beach lies the estuary and at low tides, thousands of birds flock to feed on the fish over here.